Celebrity-ing While Quarantining
During the COVID-19 pandemic, while most of us #shelterinplace, celebrities have been putting out elaborately orchestrated videos to entertain the troops, as it were, and keep up morale. And generally speaking, call me "curmudgeon" if you must, I loathe what feels to me like being pandered to by rich and famous people. I call this the "James Corden Effect," where celebrities get trotted out and then—surprise—more celebrities appear to delight and amaze the little people. Corden did not originate this practice but he certainly perfected it, bringing a maniacal, genius flair to the condescending celebrity surprise.
One prominent recent example involves Jon Krasinski's kid-friendly Some Good News webshow, a.k.a. "SGN," where the second episode featured a little girl, Aubrey, whose birthday plans to visit NYC and see Hamilton were thwarted by the evil pandemic. First Krasinski "surprised" the child with his wife, Emily Blunt, star of Mary Poppins Returns, a movie Aubrey got to watch as a consolation prize on her birthday, according to her mother's tweet. Then Lin-Manual Miranda shows up—my stars!— in the world's most predictable Zoom bombing. But wait, there's more! The entire original cast of Hamilton begins popping on screen, performing a socially-distanced, digital rendition of the juggernaut's opening number, "Alexander Hamilton."
Now, ya'll know I love Hamilton, as evidenced by my weepy recommendation of people doing #HamFromHome. But that artifact, while orchestrated by Miranda, represents the antithesis of the celebrity pander because it draws on the creativity and fandom of ordinary people, bringing them into the experience. It builds community rather than emphasizing the separation between the fancy people and the rest of us.
I will admit to being impressed by the Hamilton cast on "SGN", mostly due to how freaking good they sounded under those circumstances. But I found Krasinski and Blunt's schtick not only distinctly uncharming but grating, condescending, obnoxious. (I realize that I have now offended approximately 90% of America, or at least Facebook. If you are charmed by these celebrity artifacts, hold onto that charm for all it's worth because we deserve to be delighted, now more than ever, and far be it from me to take it away from you!) Seeing this and other recent celebrity content makes me feel like they all got on a Zoom call and said, "What can we do for the poor, home-stricken plebes during These Troubled Times? I know! Me!" I see them and think, "Walk away from the webcam, you thirsty narcissists."
But then I had a flash: these people are entertainers. They feel compelled to entertain. And so what do they do from their own sequestrations at home? They attempt to entertain. Sure, some of them drip with ego but I also see glimmers of the theater kids, awkward geeks, angsty rockers, and starry eyed dreamers they used to be. I see the deep human need to do what you're able to do. To quote from my other favorite musical, "To days of inspiration, playing hooky, making something out nothing, the need to express, to communicate." La vie boheme still exists, even at a distance, through cyberspace. Plus, who doesn't want Stanley Tucci schooling them on how to make a negroni?
Notions, Late April Edition
N. K. Jemisin, Stephen King, and Neil Gaiman walked into a bar: I sped through N. K. Jemisin's The City We Became, one of the weirdest but deeply engaging books I've read lately. It is, indeed, a highly New York book, with each of the main characters conscripted to be an avatar for a recently-born borough. I also sensed a kinship with Stephen King, something I felt when first reading Neil Gaiman's work as well. But why? One would rarely call any of these novelists thematically similar. I realized that it comes from how King's work, and much of Gaiman's, and this novel from Jemisin, creates a contemporary world very like our own but then imbues that world with the supernatural.
Poetry and the World: Maria Popova, of Brainpickings fame, moved this year's Universe in Verse event online and highlights can be streamed. Your mileage may vary with Popova's in-between commentary but the poems—performed by the likes of Ross Gay, Roxane Gay, V (formerly Eve Ensler), Amanda Palmer, Patti Smith, and more —consistently inspired.
Bake, Fail, Bake Some More: Like many, I have been baking far more than normal during These Troubled Times. Carbo-load like nobody's watching! Many of these endeavors have been marvelous flops, quite literally, as in the case of the sourdough boule I attempted last weekend. (Does anyone else curse the day they ever heard the name "James Lahey" or just me?") My initial foray into laminated dough, an attempt to make my beloved kouing-amann, likewise resulted in something deeply remote from the intended goal. But I remain undaunted! (In part because what the hell else am I going to do?) These baking failures seem like a synecdoche for resilience, a call to if at first you don't succeed, try, try again. And also, keep calm and still eat your flops because food waste kills kittens and also the planet. In that spirit, my sourdough adjacent endeavors have proven (ha!) much more successful as I look for ways to use, rather than throw away, my discard. (My sourdough is named Earthseed, by the way.) I have been able to use the discard to make pancakes but the big winner has been these biscuits—flaky, buttery delights!—discovered by my friend Martina.
Cocktails!: Speaking of ingestibles, if you're looking for a delightfully bright drink to sparkle up your spring, check out this Bee's Knees cocktail, a pale yellow concoction that marries gin, lemon juice, and honey syrup.
New Music to Expand Your Mind: Sylvan Esso has a new live album out, which is captivating, and Fiona Apple has a new studio album out, Fetch the Bolt Cutters, which is weird and raw and fantastic.
Here for R. Eric Thomas: Last, if you want to read something that will both make you laugh and cause your heart to swell, I recommend R. Eric Thomas's memoir/collection of essays, Here For It, or How to Save Your Soul in America. The collection includes Thomas's signature humor but transcends it as well, creating essays both insightful and lovely in many cases. The whole collection is great but standouts include:

"There's Never Any Danger in Bubbleland," about how a moment from Mr. Rogers Neighborhood became a family mantra.
"The Preacher's Husband," about his husband, David.
"The Past Smelled Terrible," in which Thomas explains why he has no interest in surviving the apocalypse.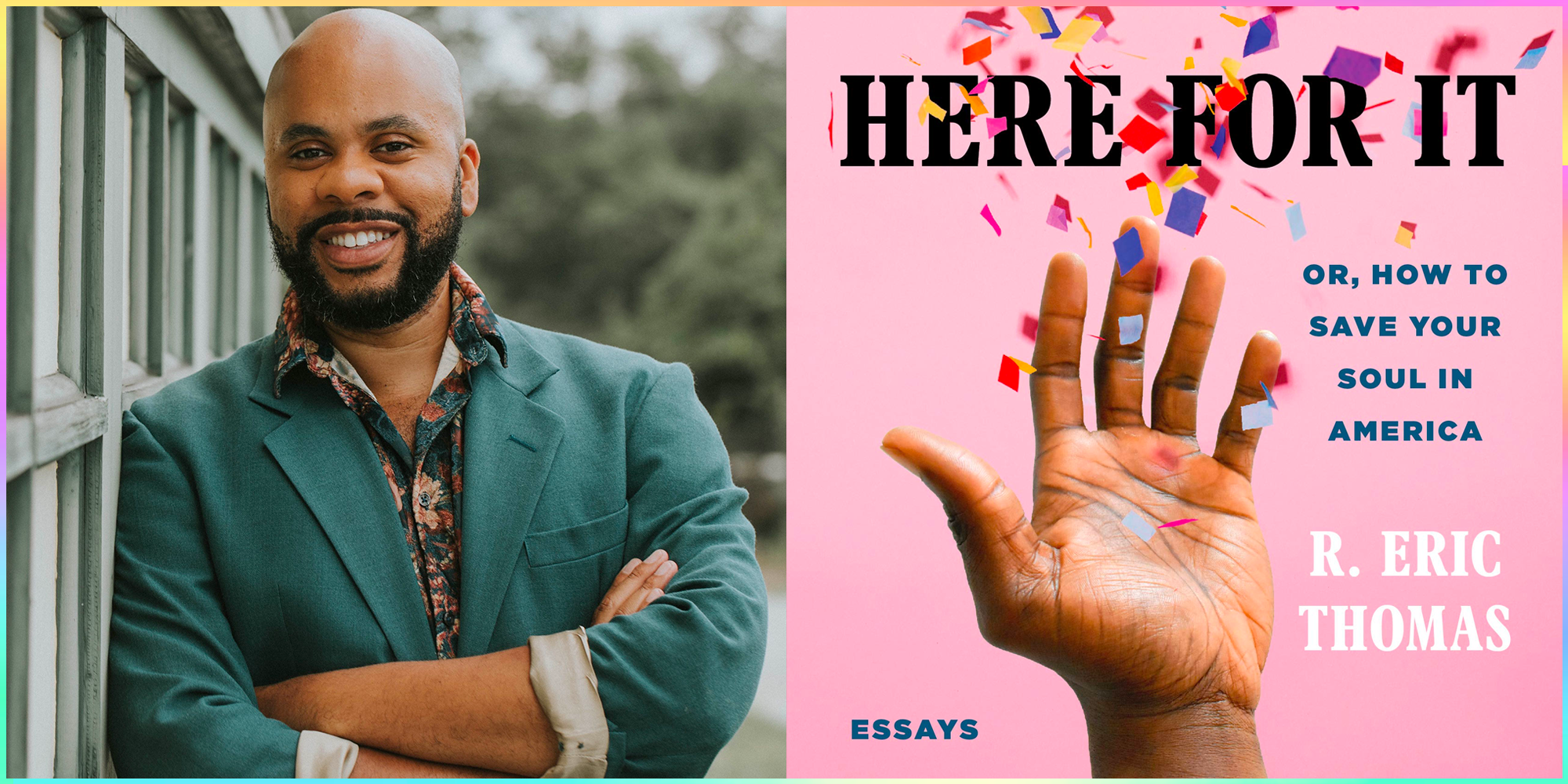 And I will leave you with these words from the title essay, perhaps in conversation with Kurt Vonnegut's claim in Breakfast of Champions that "There were one quadrillion nations in the Universe but ours was the only one who's anthem was gibberish sprinkled with question marks." Thomas writes:
We commonly only sing the first verse of the anthem; it's comprised of four sentences and three of them are questions. The singer wants confirmation about what is seen, what is perceived, and what it means. And that lack of surety is America most of all. America is never a set notion; it is an ideal scarred from battle, perceived through smoke. The people must cry as one, 'We do!' Is that what patriotism feels like? I feel that I should know, but patriotism, too, is always a question. It's a concept that has been hijacked and beaten up, sold out and ripped to shreds by those who want it only for its surface rush, and not its arduous roots. Anything good in this country has had to be wrestled free.
Plus jokes!