I remain in the throes of the painter-centric behemoth but I have broken away from it to intake some other media from time-to-time. For today's post, some brief conversation around two pieces: David Fincher's newest film, Mank, and the quarantine season of Great British Bake Off.
Mank
For his newest film, director David Fincher made a movie focused on Herman Mankiewicz, a.k.a "Mank," who cowrote Orson Welles' groundbreaking 1941 film Citizen Kane. The movie takes its inspiration from a famous piece by critic Pauline Kael, who claimed Mank deserves more credit that he gets for the shape and style of Kane. The film is also a labor of love for Fincher, with a screenplay written by Jack Fincher, David's late father. My issue with Mank is not that it's bad but, rather, that it's so frustratingly fine.
Mank almost vibrates in lush black-and-white, shot on digital and then altered to look like film. (Complete with CG "cigarette burns," re-creating the flag that a film reel needs to be changed, which is cute and that's about all it is.) The film focuses on the titular Mank (Gary Oldman) a screenwriter, alcoholic, and occasional idealist who threw his friends—newspaper magnate and power-broker William Randolph Hearst (played with glowering aplomb by Charles Dance) and actress Marion Davies (Amanda Seyfried)—under the bus in writing their takedown for Welles' movie. Hearst was a Bond villain capitalist colossus and nobody feels bad for him. But Mank and Davies were, by all accounts, actual friends, which made his inclusion of her in his thinly-veiled portrayal of Hearst particularly nasty. Davies made her life as the unwed partner of one of America's most powerful men and Seyfried steals the show playing her. Mostly I wanted to spend more time with this enigmatic, glowing woman.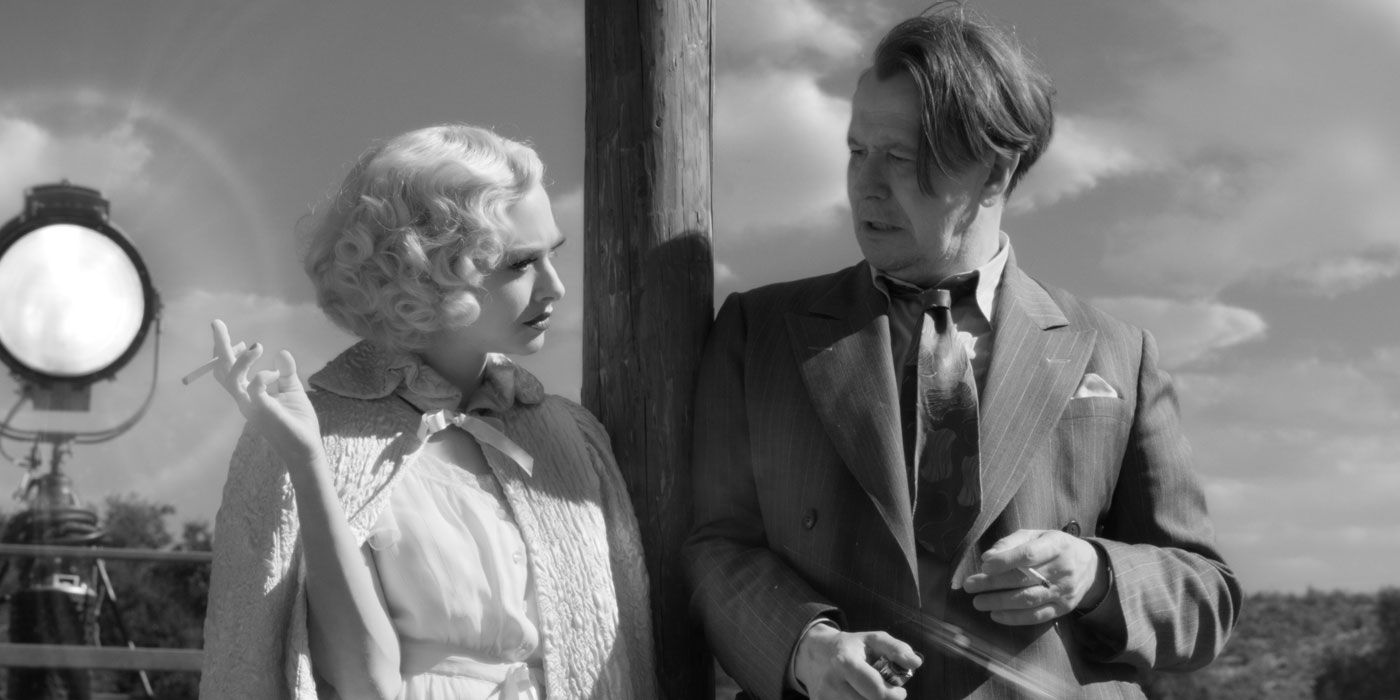 Mank flounders under the bloat of history, too fond of its insider references to 1930s Hollywood, politics, and more such that it can feel more like an cinema studies quiz than a movie. But the biggest problem lies in the film's central figure. Oldman's performance is fine, but he's also terribly miscast, playing a man who was 20 years younger than Oldman is now. (Plus we get that old Hollywood chestnut, casting Tuppence Middleton to play Mank's wife, Sara, despite the fact that she was born the same year as Mank; note: Oldman is 58 to Middleton's 33, and both real humans would have been in their late 30s/early 40s during the events of the film.) But more than those complaints, Mank attempts to have its cake and eat it too, portraying Mank as an alcoholic and gambler but also a wit, idealist, and friend, without adequately marrying these two sides of the character so that the audience understands not only why Mank makes the choices he does but, moreover, why anyone else puts up with him. In the end, the movie is beautiful, the acting is good (particularly Seyfried), it gets off some good zingers, the period is interesting, and it all adds up to fine. As someone who admires Fincher's work, I wished for better than fine.
Great British Bake Off – Bubble edition
I'd heard "meh" reviews of the new season of the GBBO. And those takes did not surprise me exactly. I have mostly come around on judge Prue Leith, who replaced the iconic, incomparable Mary Berry a few seasons ago. But I'm ride-or-die for original hosts Sue Perkins and Mel Giedroyc, so recent hosts Noel Fielding and Sandi Toksvig were set-up for failure in terms of my particular viewing perspective. This season replaced Toksvig with comedian Matt Lucas, which made me even more dubious. Plus the last season or two have done my least favorite thing, which is to make up bananas challenges simply because the show has already tackled all the low hanging fruit and then some. (Cookie "chandeliers" are not a thing, ya'll!) In short, I came to the announcement of a new season and a new host with a predestined, Grinchy harrumph.
But these are dark times. And I found myself craving the cozy comfort of the tent, the company of nice people making yummy things simply because they love to do so, people who may therefore cry over a collapsed soufflé or the soggy bottom of a pie crust. I wanted the biggest tension point of my life, for just a moment, to be whether Paul would or would not fork over an (in)famous "Hollywood Handshake." Readers, I gave the new season a chance.
And it was delightful! It gave me all the cushy familiarity. Lucas turned out to be a lovely host. (#Mel&Sue4Ever.) The challenges returned to basics, with only a handful veering into silliness. (I'm looking at you, Cake-Bust-Of-Your-Favorite-Celebrity.) What's more, Paul exhibited incredible restraint in doling out handshakes, perhaps realizing that rarity is what makes the handshake special.
But what moved me about this season was the context. It was filmed during the pandemic, with all of the cast and crew creating a "bubble" on a British-manor-house-turned-hotel. In order to make filming feasible, people were able to bring their children, including single parents among the bakers, Hermine and Marc E. Something about this set-up hit me right in the feels, not only the care for parents and children but also the resilience and determination exhibited in the whole endeavor. It felt like a beacon of connection during this pandemic and all the other horrors of 2020. Yes, I'm sure that Netflix/BBC were motivated mostly by money. But they also kept the usual cast and crew employed and provided a balm for chapped souls stuck at home (and, perhaps, engaged in their own self-induced baking challenges).
This feeling only compounded during the standard epilogue slideshow, which I intuited would end with baker Dave and his newborn baby. Dave left his pregnant partner to participate in the show and so of course it would wrap with a picture of a blissful, exhausted Dave holding an infant. And it did until it didn't. From new life the conclusion pivoted to death, honoring the memory of former-baker Luis Troyano, who died of oesophageal cancer this year. I loved Luis, a finalist on the US's season one, and the juxtaposition of COVID with the banal profundity of both babies and death wrapped the whole season in a big heart-expanding, tear-inducing bow. Rest, Luis.
2020 has been a lot, friends. Keep taking good care and baking whatever and whenever you need to.